TERRA EXPLORO
GLOBAL PROSPECTING

AND EXPLORATION COMPANY
We offer unique opportunities to utilize the very best of geological expertise in the area of terrain analysis, prospecting, exploration and calculation of available gas, petroleum and minerals reserves capacity in any part of the world.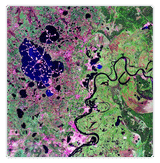 PROSPECTING SOLUTIONS
Our prospecting and exploration experience goes back to the early 1970s. Our specialists are all major heavyweights in the geological field and stand out in their area of expertise.
The new ideas of remote sensing based prospecting and mining have become the key factor in modern industries ability to redefine themselves.
SHALE GAS AND COALBED METHANE EXPLORATION NEWS
Contact us to learn how TerraExpoloro will save your time and investment on Shale Gas and Coal Bed Methane discovery and extraction using our unique lineation methodology and drilling expertise. We detect lineations based on space image interpreting and identify optimal points for vertical drilling on conventional and unconventional fields.
Our method allows us to optimize the number of wells on the field and place regular vertical wells targeted at fractured zones with high porosity in bed rocks.
TERRA EXPLORO NEWS

March 2013.
Aleksey.G.Repin Released "Faults, Volcanos, Dykes, Salars and other album.

April 2011.
A 5th Edition of Brief GAS-OIL GLOSSARY" by Aleksey G.Repin has been published by SCIENTIFIC WORLD in Moscow.
LIBRARY OF ARTICLES

Dictionary of Gas-Oil - 4th Edition


FluidNets (Russian)


Image Interpretation as a System of Scientific ResearhRUS EN


Analysis of West Siberia (Russian)


Faults and Lineation of West Siberia (Russian)